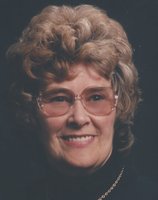 Joan M. Neal
Red Creek, New York
Neal, Joan M.
On April 10th, 2017 Joan Marie Neal passed away peacefully at the age of 84. She worked as a bookkeeper for Nealway, a trucking business owned by her and her husband, Curtis Neal. Joan was a dedicated member of the Red Creek Westbury United Methodist Church, a Sunday school teacher, and a member of the UMW. She spent much of her time volunteering and visiting the elderly and the sick. In her free time she also enjoyed bowling, gardening and baking. Joan touched the lives of countless people with her love and generosity; her compassion was unmatched. She was deeply devoted to her family and never missed an opportunity to express her love. She will be missed by all.
Joan was predeceased by her loving husband Curtis Neal, brother Don (Gene) Cathy, brother Leonard Andres and her parents Irene and Ernie Cathy.
She is survived by her siblings Rick Cathy, Marvin (Kathy) Cathy, Art (Tina) Cathy, Shirley (Don) Shipley, Tom (Carol) Cathy and Gertrude (Larry) Beitz; children David Neal, Daniel (Faith) Neal, Diane March and Julieta Mejia Trejos (exchange student daughter); grandchildren Vanessa Neal, Nathali Neal, Michael Neal, Jessica Miller, Jennifer (Scott Batz), Jacob Neal, Michelle (Andy) Yestrebi, Jeremy (Kayla) March and Bryan March; great grandchildren Bradley Neal-Kaufman, Scarlett Neal Brown, Audrey Miller, Bryanna Batz and Adelynn Batz; many nieces and nephews.
A memorial service will be held on Friday, April 21, 2017 at 1pm at the Red Creek Westbury United Methodist Church. Burial will be held in the Huron Evergreen Cemetery where Joan and her husband Curtis will be laid down to rest.
In lieu of flowers, contributions may be made to Home Meal Service, Inc. 1519 Nye Rd., Suite 400, Lyons, NY 14489 or the Red Creek Westbury United Methodist Church, 6837 Church St., PO Box 186, Red Creek, NY 13143.