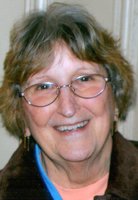 Evalyn M. Shaw
Sodus, New York
Evalyn M. Shaw passed away on Wednesday, April 26th, 2017 at Rochester General Hospital at the age of 75.
Evalyn was a loving wife, mother and grandmother. She enjoyed spending time with her family especially her grandchildren. She belonged to the Newark Knit and Chat Club, who together made several donated items for area hospitals. She herself made and donated over 600 hats to Wilmont Cancer Center. She enjoyed watching Syracuse Basketball and was a long time New York Yankee fan. She will be deeply missed by her family and friends.
Evalyn was predeceased by her daughter Colleen Shaw, her parents Russell and Irene Wyman and sister Shelley Spitz. She is survived by her husband Donald Shaw, her daughters Lisa Shaw and Tracy (Matt) Sergeant, grandchildren Ryan DeVries, Madison and Christopher Sergeant. Evalyn is also survived by her brothers John (Gwen) Wyman of Washington State and Mark (Debbie) Wyman of Missouri and special cousin Ruthie (Wayne) DePotie.
A funeral Mass will be held at the Church of the Epiphany, 105 West Main Street, Sodus, NY, 14551 at 12noon on Saturday, May 6, 2017. Donations in lieu of flowers may be made to The American Heart Association,25 Circle St #102, Rochester, NY 14607 or The Wilmont Cancer Center: Wilmot Cancer Institute Development Office, Alumni and Advancement Center, 300 E. River Rd., PO Box 278996, Rochester, NY 14627.