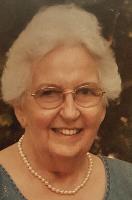 Ruth Ann Cheeseman
~~ Ruth Ann (Hermanet) Cheeseman
Ruth Ann (Hermanet) Cheeseman, age 86 of Erie, PA and formerly of Sodus NY, passed away Sunday April 30, 2017 after an extended illness. She was born in Marion, NY on March 29, 1931, a daughter of the late Michael and Nellie (Bouleah) Hermanet. Ruth Ann graduated from Marion High School and worked at Stott's Drycleaning and Jackson & Perkins before marrying in 1955 to James R. Cheeseman. She was preceded in death by her husband of 47 years in 2002 and her siblings, Nell Elliot, Michael Hermanet Jr., Elizabeth DeMeyers, Anna Rommel, and Elsie Norsen.
Survivors include her two sons, James T. (Stephenie) Cheeseman of Fairview PA and Jason S. (Pauline) Cheeseman of Chardon OH and two stepdaughters, Nancy (Jack) Cunningham of Seven Lakes NC and Sharon Murray of E. Rochester NY. Five grandchildren, Ashley, Courtney, Brittany, Thomas, Hannah and three great grandchildren, Morgan, Breeona and Aiden. Also many special nieces, nephews and friends.
Friends may call at the Norton Funeral Home, 45 W. Main St., Sodus, NY on Saturday from 12-2PM with services immediately after. In lieu of flowers please consider a donation in Ruth Ann's memory to the charity of your choice.