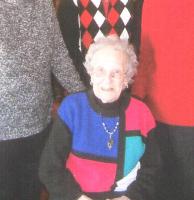 Virginia Burns
~~Sodus/Williamson, New York
Burns, Virginia M.
Virginia M. Burns, 97, of Williamson passed away on May 9th, 2017 at Sodus Rehab and Nursing Center. She is predeceased by husband Chester T. Burns and son Donald C. Burns. She is survived by daughter Bonnie Garrett of Texas; grandchildren Tamara, Dale, Debra and Donnie; special nieces and caretakers Janice (Paul) Hewlett and Lori (Dan) VanAcker; nieces and nephews Nancy (Don) Dayton, Chelsea VanAcker, Steve (Sheila) Grace, Todd Grace, Stacie Grace and Jeff (Peggy) Westfall.
A funeral service will be held on Saturday, May 13th, 2017 at 11 am at Norton Funeral Home, 45 W. Main St., in Sodus. Burial will be held at the Lakeview Cemetery in Pultneyville, New York. Contributions, in lieu of flowers may be to the Humane Society of Wayne County, 1475 County House Rd., Lyons, NY 14489.