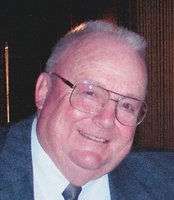 Donald D. Johnson
~~Sodus
Johnson, Donald
Donald D. Johnson passed away on Sunday, September 17, 2017 at Wayne County Nursing Home at the age of 84. Donald is survived by his loving wife of 63 years, Valerie (Midge), son Eric, daughter Susan (Joe) Rankin, cherished granddaughter Lauren Rankin, sisters Helen Verkey, Marion (George) Fletcher, Dorothy (Ken) Johnson and Virginia DeFisher, brother-in-law Stuart (Colleen) Perkins and many nieces, nephews and friends. Don was predeceased by his parents Edward and Leona, brothers Daniel, John and Richard, brothers-in-law Abe Verkey, Ed DeFisher and sister-in-law Melba Johnson.
Don was a proud veteran of the US Army having served in Korea. For many years he was the manager of the Sodus office of Farm Credit. Later he was a Real Property Appraiser for the State of New York and was a business partner at Appraisal Consultants. He also was a former member of the Board of Directors of Wayne County ARC.
A Memorial Service will be held on Saturday, OCTOBER 21 at 1 PM at the United Third Methodist Church in Sodus. A reception will follow the service at the Sodus Bay Heights Golf Club. In lieu of flowers, contributions may be made in Don's memory to the Wayne County ARC, 150 Van Buren Street, Newark, NY 14513.