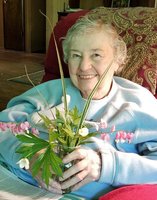 Judith E. Moss
~~Sodus
Moss, Judith Ellen
Judith E. Moss, age 78, passed away on Wednesday September 20, 2017 at Rochester General Hospital. She was born in Ft. Wayne, Indiana on November 4, 1938.
Judy received a Bachelors in Arts from Wooster College in 1961 and later her training certificate in Occupational Therapy. She lived for years in St. Thomas, Virgin Islands where she worked training dolphins. Later she moved to Wayne County, New York where she worked for Finger Lakes Developmental Disabilities Service Office. There, Judy piloted a program directed at the advancement of physical and mental development for young children. This program would receive national attention and recognition for its ground breaking work.
Judy retired from the Finger Lakes Developmental Disabilities Service Office after years of service as a Registered Occupational Therapist in the State of New York. She became interested in and received her training in Polarity. She worked on a 3 year Polarity research program at Strong Memorial Hospital, sponsored by the Wilmot Cancer Center.
Judy later worked at the Angelic Link in Rochester and would often take her skills to those who needed her help such as the Sisters of Saint Josephs in Rochester as well as traveling around the world. From New Zealand to the Karimabad in Hunza, Judy would apply her healing arts to all who asked.
In addition to this work, Judy ran a farm and Bed and Breakfast from her home in Sodus. She raised goats, chickens, rabbits, and geese along with fruits and vegetables. Often her fresh produce was what she offered the guests that stayed at her Bed and Breakfast. Judy Moss was an early and strong advocate of an organic healthy lifestyle. She was a strong, independent woman who enjoyed traveling, meeting people and helping those in need wherever she could. She will be greatly missed by her family and many friends.
Judith Moss is survived by her nieces and nephews.
Private services will be held at the convenience of the family. In lieu of flowers, anyone wishing to may send donations in Judith's memory to Lifetime Care, 800 West Miller St., Newark, NY 14513.