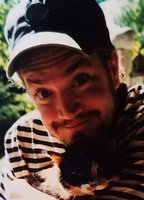 Timothy B. Nihoff
~~Peaks Island, Maine
Nihoff, Timothy B.
Timothy Nihoff passed away on Monday, September 25, 2017 at the age of 55 after an extended illness in Peaks Island, Maine. Tim was predeceased by his parents Robert C. and Joan P. Nihoff and nephew Jamey Valentine. He is survived by his siblings; Debra (Cliff) Paige of Martville, NY and Robert K. Nihoff of Brookline, MA, his nephew Cory S. Jarvis of Spartanburg, SC, 2 great-nephews; Nicholas Hartnett and Zen Jarvis along with his "Island" family and all the people he encountered throughout his career.
Tim was born on February 5, 1962. He graduated from North Rose Wolcott High School in 1981 and then went to SUNY at Fredonia where he graduated in 1986. Tim created Tim Nihoff Studios in Boston, MA and became a professional illustrator, designer and creative artist. He worked on several projects for Rand McNally, PBS, Nickelodeon, logos, toy packaging, games, children's books and a pet project he dubbed "The Dollar Bill Project" which he enjoyed giving out as tips. He later moved to Peaks Island, ME which he shared with many other artisans and crafts people. He continued to create for local businesses on the island and ran his studio from home. All who knew him will miss the gentle, creative and "quirky" playful spirit he was. No service is planned at this time.