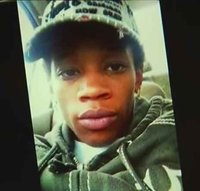 Fredrick Turner Thomas III
Thomas III, Fredrick T.
Fredrick, age 27 passed away unexpectedly on Tuesday, September 26, 2017 at Strong Memorial Hospital in Rochester, and is now in the loving arms of Jesus. He is survived by his parents; Fredrick Thomas Jr. of Syracuse and Tonya Collins of Lawrenceville, GA; siblings; Robbin Knight-Collins of Lyons, Jawuan Thomas of Lyons, Kiera Thomas of Auburn and Tamir Thomas of Syracuse, grandparents; Fredrick Thomas Sr. of Syracuse, Marcella Thomas of Orlando, FL, and Alvin & Mary Jones of Clyde, great-grandmother; Pauline Johnson of Auburn, and several aunts, uncles, nieces, nephews, cousins and a host of other relatives and friends.
Friends and family are invited to call Saturday, October 7th, from 10am-12pm at the Redeem Bethel C.O.G.I.C. on 104 in Williamson, NY. Where Funeral Services will be held promptly at 12pm. Interment in Elmwood Cemetery, Lyons, NY. Condolences may be expressed online at www.hsnorton.com.