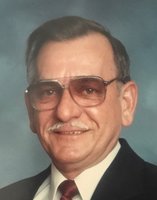 Nickolas "Nick" Budinock
Nickolas Budinock, age 87 of Wolcott passed away peacefully on Tuesday November 14, 2017 at Sodus Rehabilitation and Nursing Center.
Nickolas was predeceased by his loving wife, Helen of 64 years; siblings John Dadiw, Helen Streeter and Anne Bennett.
Nickolas will be sadly missed by his children; son, John (Dawn) Budinock, daughters: Christine (Lori) Budinock, Nickoline (Jim) Henner and Maureen (Chris) Baltzer, grandchildren: Sabrina, Alyssa, Kara, Nicholas, Kasey and Quinn along with several nieces and nephews.
Nick enlisted in United States Marine Corp in 1948. He was a proud and decorated Korean War Veteran. Nick was a life member of the Wolcott VFW where he also was Past Commander for several years. Nick was also Past Commander of the Wolcott American Legion. He was a legendary bartender at the Wolcott Hotel in the 60's and 70's. Nick retired from Xerox in 1991 after 30 plus years of service. Nick was an avid outdoorsman who particularly enjoyed camping at Hyde Lake.
Friends and family may call on Saturday, November 18th from noon until 2 pm at the Norton Funeral Home, 5925 New Hartford St., Wolcott, NY where the funeral service will be held at 2 pm with Rev. JD Freer officiating. In lieu of flowers, the family has requested contributions be made in Nick's memory to the Wolcott VFW, located at 11972 West Main St., Wolcott, NY. Condolences may be expressed at www.hsnorton.com.