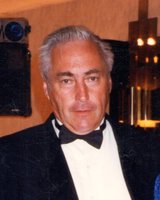 William H. "Bill" Huff Jr.
Age 76: Died un-expectedly Monday, November 27, 2017 at Newark Wayne Community Hospital. Bill was pre-deceased by his wife of 51 years, Wanda; survived children, Julie of North Rose, William (Pamela) of Newark, Scott (Jennifer) of West Walworth, Tammy (Mark) Martin of Williamson; grandchildren, Amanda, Scott, Tabetha, Benjamin, Kaleb, Johnathon, Audrey Jo, Curtis, Bradley, Ryan; great-grandchildren, Hailey, Sophia, Kairi, Castiel, Theon; several nieces and nephews and a host of other relatives and friends. Bill was also pre-deceased by his brother Earl.
Friends are invited to call Saturday, December 2nd, from 12-4pm at the Norton Funeral Home, 45 W. Main St., Sodus, NY 14551. A "Celebration of Life" will follow from 5-8pm at the Sodus Point Fire Dept. In lieu of flowers, contributions may be made in Bill's memory to the American Diabetes Association, 2451 Crystal Drive, Suite 900, Arlington, VA 22202.