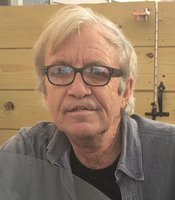 Trevor Foster Jackson
Savannah
Trevor Foster Jackson " TJ "
Trevor was born on April 23, 1953 in Ithaca, NY. Trevor left on his last trip at 12 leaving from Gate 2 on flight 2017, at the age of 64 (December 2, 2017) following a courageous battle with cancer.
Trevor lived in Savannah his entire life. He was owner and operator of Jackson Farms Inc. At one time one of the largest potato growers in the area.
He was predeceased by his parents Dale and Shirley Jackson.
Trevor graduated from Clyde-Savannah Central School in 1972. Then went on to Monroe Community College for a period of time.
He made farming his entire life. He always said that farming was the easy part of life at times. He loved what he did for 50 plus years. When Trevor graduated from high school he and his buddy, Roger left on a road trip across the United States where they found many adventures along the way, far too many to list. Trevor always loved that he had the opportunity to travel and that was one of his main purposes in life. He traveled to Central America, South America, and throughout the United States and to many Caribbean Islands. One of the highlights of his travels was when Trevor & Sharon were able to visit Cuba. It was one best times he ever had. It would have been a little better if he could have just seen Castro he said.
Trevor had many interests. He loved boating on (Tater Toy). Trevor also loved camping, fishing, skiing the mountains of the US, snowmobiling, riding his Harleys and most of all the time he spent at the Watkins Glen Races.
Trevor made his winter home in New Orleans. He could never get enough of that city.
Trevor leaves behind a kind, caring, and loving and devoted wife of 21 years Sharon.
And to Sharon: You always played a very important part in my life and I thank you for being by my side for all those years. We had a lot of FUN. Thanks, I'll never forget all the times we had together.
Trevor is survived by a loving stepson Lucas( Erin) Lopez of Hamilton, NJ and four wonderful daughters: Amber (Patrick) Higgins, of Red Creek, Tiffiny (William) Cahoon of Wolcott, Tori (Seth) Duell of Webster, Tyanna (Jesse) Jewett of KY, and caring son Tyler Jackson of Savannah along with the most adorable grandchildren anyone could ask for: Aeryn and Ellie Higgins, Calvin and Mabel Cahoon, Greyson and Emma Durell, Aiden and Ashton Seelbinder, and Jackson Jewett. Trevor is also survived by his sister Trena Fisher, Aunt Lucille DeGraw and many nieces, nephews, very special friends Keith and Ann Cloyd from New Orleans, his beloved Sammy Cat and a host of friends.
Until we meet again I will miss each and every one of you. Thanks for being a part of my LIFE.
Trevor would like to thank his doctors that helped him during his battle with cancer; Dr. Peyre of Strong Memorial Hospital, Dr. Yirinec and Dr. Hansen of Clifton Spring Hospital, Dr. Steck, Dr.Kessler, Dr. LaGuardia of West Jefferson of New Orleans, wonderful nurse Shannon and his aide Rebecca that helped him every day. All your help was greatly appreciated during those very trying times.
Friends may call from 2pm- 4pm and 6pm to 9pm on Friday, December 8th at the Norton Funeral Home, 5925 New Hartford St., Wolcott, NY. Funeral services will be on Saturday, December 9th at 11 am at the funeral home. Interment will be at the Crusoe Cemetery in Savannah.
In lieu of flowers, the family asks that you direct donations to the American Cancer Society. Condolences may be expressed online at www.hsnorton.com