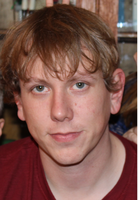 Dereck M. Cathy
Dereck M. Cathy, age 29, passed away unexpectedly on January 5, 2018 at his family home after work while doing something he enjoyed, playing a video game. Calling hours will be from 10am-11am on Saturday, January 13, 2018 at the Norton Funeral Home, 5925 New Hartford St, Wolcott, NY 14590. Immediately followed by the service and then a reception at the Wolcott Elk's Lodge #1763. Friends and family are asked to please consider a contribution in lieu of flowers to a memorial fund being for his two children. Checks payable to Dereck Cathy Memorial Fund and mailed to Community Bank, 5 Seneca St., Geneva, NY 14456.
Dereck was born in Sodus, NY and attended North Rose –Wolcott Schools. He later earned his G.E.D. He was a Cub Scout, member of the North Rose Methodist Church Youth Group, took Kuk Sool Won lessons, and participated in Little League at the Elks Club field where his Grandfather was an umpire and active member.
Dereck was employed as a cook at Peter's NY Pizzeria in Wolcott. Dereck loved pizza. As a boy he began cultivating a friendship with the Pizzeria owners, Joe and Sal, who often joked that someday Dereck should work for them. He did and enjoyed a close relationship with them and their families over the years.
Dereck was a kind, old soul, with a hippy spirit. He was quick to come to the rescue of lost animals, turtles, frogs, birds, strays and friends. He was compassionate and gentle especially with his Uncle's who had special needs and his Grandfather who developed Alzheimer's disease. He liked to read books and comics, play video games and be near Lake Ontario. He collected many unique instruments. He loved playing them, his guitar, drums and just jamming out with his friends.
He was a deep thinker who pondered social injustice and the plight of others wondering how did things get to where they are. Dereck trusted in the good of people at times to his detriment. Like many teens and young adults, Dereck faced many adversities in his life. He was working hard to succeed for himself and his children and was getting his life in order.
Dereck learned to love and appreciate nature and its beauty from his family with whom he had unique and special relationships. He developed his creative and artistic talents with his Mother. He talked endlessly at times with his Uncle Bill who he thought knew just about everything, except for his Grandmother who did. He found a playmate to laugh and be silly with in his Uncle Bob. He learned to shoot a basketball, ride a bike, throw and hit a baseball and just be adventurous with his Aunt Donna. He was a little buddy to his Grandmother, playing games, cooking and working on one outdoor project or another. He was the opportunity for his Grandfather to spoil and enjoy the things he wasn't able to with his own children because then times were hard. He was very proud of his first cousin Dominic's accomplishments and enjoyed their time playing video games and building Legos.
Dereck was artistic and took pleasure in creating beautiful tie died articles, macromie and pencil drawings for others but especially for his children. He grew up with the family belief that to make something for someone was a gift from the heart to be cherished. It was his hope to open a business venture beyond local festivals with these talents.
Dereck was fiercely loyal to his friends and family. But most of all, even as one who grew up without a father in his life, he was forever a nurturing and loving Dad to his two children who were the guiding lights of his life. Through them his kind, gentle heart shall forever shine and move forward.
He was predeceased by his Grandfather, Donald F. Cathy, and his Uncle, Bob Cathy. He is survived by his daughter, Azyriel E. Cathy and son, Kaleb J. Cathy; his Mother, Jeanette M. Cathy; his Grandmother, Gene M. Cathy; his Uncle, William F. Cathy; his Aunt, Donna M. Cathy and cousin Dominic F. Fratto; and many other cousins, Aunts, and Uncles; the Bellone Family; and his so many cherished friends who never lost faith in him.
The family would like to thank the emergency responders who braved the weather that bitterly cold blustery night and the many friends and family who guided us through.