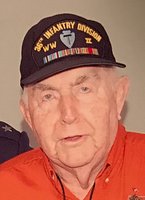 Stephen E. Patchett, Sr.
Age 93, passed away peacefully, Friday, January 26th, 2018, after a short stay at Newark Manor Nursing Home. A "Celebration of Life" service will be held at 11am Thursday, Feb. 1st, at the First United Presbyterian Church, 31 W. Main St., Sodus, NY. The family will greet friends from 6pm-8pm on Wednesday, Jan. 31st, at Norton Funeral Home, 45 W. Main St., Sodus.
Steve was born in Sodus, NY, on December 31, 1924. He graduated from Sodus High School in 1942, attended a semester at Virginia Tech, and then enlisted in the US Army, shortly after his 18th birthday. He proudly and honorably served three Army infantry divisions in Europe, for three years, returning home, in 1946, to continue the pursuit of his civil engineering degree at Va. Tech, graduating in 1950.
On November 2, 1950, he married the love of his life, Mabel Jenny DeFisher. Shortly thereafter, Steve and Mabel began a 30-year journey with the US Dept. of Defense, the Inter American Geodetic Survey, an adventure that would take them to homes in Nicaragua, Columbia, Peru and the Panama Canal Zone. After raising five children, primarily in Panama, Steve retired in 1980, and he and Mabel returned to Sodus.
During his 38-year retirement, Steve volunteered with many civic organizations, and was a member of the local VFW and American Legion. He loved the stock market and researching mutual funds. He enjoyed fishing, golf and gardening. He and Mabel also made an occasional trip to Europe, and were known to visit the casinos on occasion. He also loved raising pheasants, quail and banty roosters. Most of all, he enjoyed spoiling his children and grandchildren.
Steve is survived by his wife of 68 years, Mabel; his brother Dan (Shirley), Sodus; sister-in-law Betty DeFisher, Sodus; daughter Elaine Donaldson, Williamson; son Steve Jr (Kristy), Hockley, TX; daughter Gail Givens (John), Boulder, CO; son Russ (Christina), Rochester; and son Tom, Sodus; grandsons Michael, Rusty, Andy and Stephen; granddaughters Tracy, Lisa, Stefanie, Kelly, Anna and Katie; great grandchildren Tristin, Taylor, Sofie, Gabby, Andrew, Briggs and Nash; and numerous nephews and nieces.
Steve was preceded in death by his father and mother, Sidney and Phyllis; his brother, Russ; his sister and brother-in-law, Martha and Don Mitchell.
Steve was a devoted husband and father; a man who lived an exemplary life and set a wonderful example for his children. He will be greatly missed by all who dearly loved him.
In lieu of flowers, donations may be directed to:
Honor Flight, Inc., 175 Tuttle Road, Springfield, OH 45505 www.honorflight.org