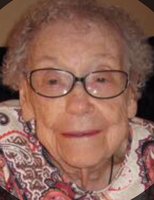 Marian Dorene DeWolf
.
Sodus, New York – Marion Dorene DeWolf, age 99, a longtime resident of Sodus, went to be with her Lord on Sunday, February 11, 2018 at Blossom View Rehabilitation Center. A memorial service will be held at 11:00 am, Friday February 16,, 2018 at Frist Presbyterian Church in Sodus.
Dorene was born September 18, 1918 in Sodus, NY to Fred and Clara Wood (both deceased). She graduated from Sodus High School and married Raymond E. DeWolf (deceased). Dorene was a life-time member of First United Presbyterian Church, sang in the choir and was a member of the Eastern Star.
Dorene was preceded in death by her husband Raymond, daughter Judith and grandson Eric J. Featherly. She is survived by her son, William and wife, Marie, Boston, MA and Greenville, PA; grandchildren: Kristen Catching and husband Dale, Bacliff, TX; Angie Marie DeWolf, Boston, MA, Dr. William F. DeWolf, II, Pittsburgh, PA, great grandson Dylan Watson, San Marcos, TX and special family friend Cheryl Davies, Ontario, NY.
Dorene loved to talk about her grandchildren, good food, socializing and being with friends. She was a devoted grandmother to her grandchildren and will be greatly missed by all who love her.
Memorial gifts may be made to the First United Presbyterian Church of Sodus, 31 Main St., Sodus, NY 14551 in her name.