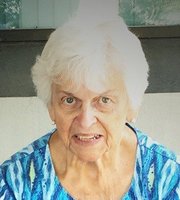 Betty Hittle
Betty Hittle passed away peacefully on Sunday, February 25, 2018 at the age of 78 in Locke, NY where she was living with her daughter Judi and son-in-law Jeff. Betty was predeceased by her parents Daniel and Deborah Mills, her longtime life partner John Koeppl, brothers; Alan Mills and Gary Mills and brother-in-law Jacob Kerberskey. Betty is survived by her children; Teri (MacIver) and Jeffrey Jaquith of Woonsocket, RI, Scot and Linda MacIver of Sodus, NY and Judi (MacIver) and Jeffrey Novitzki of Locke, NY, her 22 grand and great-grandchildren, her siblings Dorothy (Mills) and Donald Rhine of Fairhope, AL, Mary (Mills) Kerberskey of Greenville, SC, Ronald Mills of Alamogordo, NM and sister-in-law Philippa Mills of Sodus, NY along with many nieces and nephews and beloved grand-dog Livvy.
Betty touched the lives of many, loved nature, music and saw beauty in so many things. She loved her family and those that knew her loved her. She stayed strong and determined through a difficult illness, never losing her sense of humor.
There will be a memorial service on Saturday, March 10 at 1pm at the United Methodist Church in Sodus, NY. In lieu of flowers, Betty's family has requested donations be made in her memory to Hospice of the Finger Lakes www.hospiceofthefingerlakes.org.