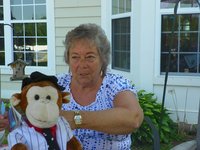 Norma E. Donohue
Lakeland, FL / Formerly of Wolcott: Norma passed away at home after a short illness with her loving husband and best friend at her side on December 12th, 2018 at the age of 73. She was born July 16th, 1945 in Lyons, NY the third daughter to Earl and Lucille (Lancaster) Wraight. Norma grew up in Lyons, NY where she meet her husband and best friend Patrick (Butch) Donohue their Junior year of High School before moving to Wolcott, NY to raise their family on Sodus Bay.
Norma worked at Connelly's Cove alongside her husband Butch for 25 plus years before opening their Liquor Store, Donohue's Wines and Liquors in Sodus, NY. After retirement they moved to Lakeland, FL where she could garden year-round. Norma was very active and enjoyed her Sandpiper Community and friends where her and Butch called home.
She is survived by her beloved husband of 53 years, Patrick; her daughters Patricia (Gerald) Walsh, Tracy (Jeffrey) Thatcher; her grandchildren, Patrick Walsh, Morgan, Troy and Stephanie Thatcher; her sisters and brother, Gail (James) Cochran, Joan Gammon, Beth (Frank) Hollenbeck and Larry Wraight; several nieces, nephews and friends. She was predeceased by her parents Earl and Lucille Wraight, her in-laws Patrick and Elizabeth Donohue, and her brother-in-law Phillip Gammon.
Friends and family are invited to call from 10:00am-11:00am, Saturday, January 19th, 2019 at the Norton Funeral Home, 45 W. Main St., Sodus, NY 14551. Where funeral services will start promptly at 11:00am. Condolences may be expressed at www.hsnorton.com.
In lieu of flowers, contributions may be made in her memory to your local Animal Shelter or Save our Sodus (P.O. Box 56, Sodus Point, NY 14555).