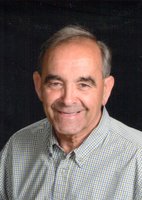 William D. Pine
William D. Pine – Veteran, Husband, Father, Grandfather, and friend; Sodus Point, NY
William "Bill" Pine, born October 10, 1943, passed away after a short stay at the Elm Manor Nursing Home on January 3, 2019.
A lifetime resident of the Finger Lakes area, Bill was born and raised in Waterloo, NY, where he graduated from Waterloo High School in the spring of 1961. Shortly after graduating, Bill joined the US Army and then National Guard. Continuing his duty to serve through his work with the US government, Bill was employed by the Seneca Army Depot and then Fort Drum, overseeing housing for soldiers and families. During this time Bill was also an active member of the American Legion in Geneva, NY. After a short time with the Army Corps of Engineers in Baltimore, MD (2001-2005), Bill returned to New York and ultimately the Finger Lakes, where he remained as a member of the community he knew and loved until his death.
Bill was proud of and devoted to his family. He is survived by his wife, Betty J. Smith Tyner Pine; children William P. Pine (Karey), Stephen Pine, Kristin Wheeler (Christopher), and Kathleen "Katie" Mott (Richard); sister, Colleen Palm; step-children Danielle Tyner (Jason Williams), Sarah Tyner (Paul Lyman), and Gary Tyner, Jr.; grandchildren Olivia Pine, Logan Pine, Kelsie Wheeler, and Carson Wheeler; and step-grandchildren Tyner Williams, Aiden Lyman, and Oliver Lyman.
Bill was predeceased by his parents William Joseph Pine and Anna May (Manna) Pine.
Family and friends are invited to a Memorial Service in remembrance of Bill's life on Wednesday, January 9, 2019 at 11:00 am at St. John's Episcopal Church, 54 W Main Street, Sodus, NY 14451. In lieu of flowers, contributions may be made in Bill's memory to St. John's Episcopal Church, the Alzheimer's Association, 435 East Henrietta Rd, Rochester, NY 14620 or https://www.alz.org/rochesterny/donate, or to Hospice of Ontario in Yates County, 756 Pre-Emption Rd, Geneva, NY 14456.
Condolences are welcomed at www.hsnorton.com.